College Football Activities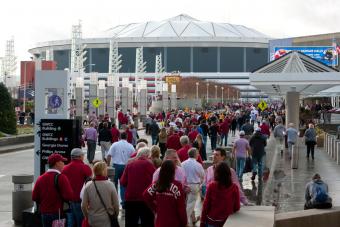 While the game itself is the main event, the full college football experience involves many additional activities. From pre-game festivities to celebrations following victories, there is a whole lot more to college football than just watching the game.
Activities Surrounding College Football Games
Part of the fun of college football is the pomp and circumstance surrounding the games. Activities surrounding games, many of which are long-standing school traditions, vary from school to school and from week to week. For specifics about a particular school or game, contact the alumni office to get a sense of what might be going on. Common activities include:
Pre-Game
Pep Rallies: It's common for schools to hold pep rallies prior to college football games. For home games, they may be held a day or so before, while pep rallies for away games are generally held on campus before the team departs. These events feature players, coaches, cheerleaders, the marching band, team mascots and more. Pep rallies provide a way for fans and students to show their support for the athletes and get the athletes pumped up for a successful game. They also provide a fun way for fans and students to show their school spirit and bond.

Tailgating: Gathering with friends or family before a football game in the stadium parking lot (or other designated location) for food, beverages and socializing is a long-standing college football tradition. Some tailgaters go all-out, bringing in RVs a day or two before the game, camping out and setting up elaborate party spreads with gear like tents, TVs, outdoor games (cornhole is a popular choice), grills, etc. Check out the "top 25 college tailgating schools" listed on Bleacher Report to get a sense of just how big tailgating can get. In some cases, prizes are awarded to those with the most elaborate tailgating set-ups.

Pre-game entertainment: Some schools go all-out for fans, providing on-site pre-game entertainment options that begin several hours before kickoff. For example, Louisiana State University sets up Tiger One Village (with financial support from their corporate sponsor, Zatarain's) before each home game. Fans can enjoy live musical entertainment, concession vendors and catch a bird's-eye view of the team and marching band entering the stadium from their walk down Victory Hill.

Team send-off/Welcome: Gathering to welcome and support players as they make their way to the stadium is another popular game-day activity at some schools. One example is the "Tiger Walk" tradition at Auburn University. For home games, the cheerleaders, coaches and players walk together from the school's athletic complex to the stadium two hours before kickoff. Fans gather along the path in droves, cheering the team on every step of the way. Similar send-offs are held as teams board transportation to leave for away games, and in some cases, fans who follow their teams on the road gather to greet them as they enter the visiting stadium.
During the Game
Opening ceremonies: The opening ceremonies just prior to kick-off are not to be missed. They often include band and cheerleader performances, sponsor announcements, community awards, etc. Player introductions are made as each team bursts onto the field, with mascots, cheerleaders and/or flag team members leading the way. There is always a moving performance of the National Anthem and, of course, the coin toss that determines which team gets to choose whether they want to begin on offense or defense. Many schools add unique touches, such as the Florida State University tradition of kicking off every home game with Seminole Chief Osceola (portrayed by a student) galloping down the field atop Renegade, a beautiful Appaloosa, and planting a spear at midfield.
Cheerleaders: No college football game would be complete without home team cheerleaders on the sidelines. One of their main roles is to encourage fan involvement and support, generating excitement so fans are loud when needed, such as to help cheer the home team to victory or to drown out on-field calls from the visiting team. Of course, the high-energy, athletic performances of college cheerleaders require incredible strength and skill, and are fun to watch in and of themselves.

Halftime shows: The home team's shoulders and marching band put on a halftime show during each game, which only those who attend in person get to enjoy in full (as it is generally not televised). The program is chosen to highlight the band's skills and often features long-standing team traditions. For example, at Ohio State University, the band is known for spelling out the word Ohio in script in marching formation during halftime shows.
Post-Game
In-stadium victory celebrations: Post-game celebrations are common for the winning team, and some take place inside the stadium. For example, after each Notre Dame win, team members go to the student section and lead fans in a rendition of the alma mater and the school's Irish Guard dances a "Victory Clog" before leaving the field. In some cases, fans gather on the field after a particularly big win, as happened when Baylor defeated the University of Texas to win the Big-12 Title in 2013.

Off-site victory celebrations: Of course, fans - those who attended the game and others in the local area - gather off-site to acknowledge the win. Some such celebrations occur after every win and are rooted in tradition. For example, Auburn University fans gather to roll (yes, with toilet paper) Toomer's Corner near the main entrance of the campus as a victory celebration. Others are more spontaneous, occurring after particularly big or unexpected wins, with fans taking to the streets in jubilation.
Bowl & Championship Games
Activities and celebrations surrounding college football rise to an even higher level during championship and bowl game season. Fans typically have to travel long distances to see their team play in conference championship games, bowl games and, if they are really lucky, College Football Playoff and National Championship games. Consequently, the communities they visit go all-out to welcome them.
Regular game activities still take place at this level, with additional options to help fans make the most of their experience. Traditions of both teams are honored in the host communities and at the stadium (rather than focusing primarily on the home team), so there are even more fun, fan-focused activities leading up to the big day and during the game itself. Check the website of the specific end-of-season game you're attending for specific on your event. Examples include.
Fan festivals: Fan festivals are typically held in the days leading up to a bowl or championship game. For example, prior to each year's College Football National Championship game, there is a "multi-day fan festival" in the city where the game is played (it rotates each year) before game day. Tickets are required though you can purchase tickets to the festival even if you are not attending the actual game. Activities include things like sports clinics for kids, interactive experiences, celebrity appearances, big name entertainers and more.
Fundraisers: It's not unusual for there to be fundraising activities surrounding big games like these. For example, in the days leading up to the 2017 foundation, there will be an Extra Yard 5K and one-mile fun run and a Taste of the Championship food-tasting event, both of which will benefit the College Football Playoff Foundation in support of its charitable efforts.
Game day celebrations: At these big games, tailgating is super-charged with fabulous game-day celebrations on stadium grounds for ticket-holders. Activities may include performances by big-name entertainers, food vendors and a variety of interactive experiences. Television networks often cover major highlights of these events in their broadcasts, so even those who aren't attending can enjoy a bit of the fun from home.
Parades: The Tournament of Roses Parade held in Pasadena each year prior to the Rose Bowl may be the most recognizable college football-related parade, but it's not the only one. Victory parades are also common. After big bowl game or championship wins, parades are typically held in local communities to honor the team, such as the parade held in Tuscaloosa for The University of Alabama following their 2016 National Championship victory. It takes a bit of time to organize this type of event, so these parades may take place up to a week or so after the team returns home from the big game.
More Than a Game
According to the College Football Research Center, "watching their favorite college teams play is a way of life" for many football fans. The activities surrounding the storied sport are part of what people love so much about it.