College Girls Need Cash
Tending bar and serving alcohol is legal for most 18 year olds even if they cannot legally purchase it until age 21. Tending bar can help a college girl make a decent living, but you have to adjust to working evening hours, sometimes until two or three in the morning.
If you are looking for work in a bar, check the bar's reputation and the laws governing serving alcohol before applying. Try to schedule your work hours around your classes and if you have 8 a.m. classes, don't work until 2 a.m. on a regular basis.
Customer Service Representatives
Customer service representatives are always in demand. If you're looking to supplement your income to cover your books and living expenses, then a job as a customer service rep could be the way to go.
The best part of being a customer service rep is that you typically work on the phone and with the growth of the Internet, sometimes you can work from your dorm room as long as you can provide a dedicated phone line. The pay may not be outstanding, but it's at least minimum wage and hours are typically flexible.
Daycare
If you enjoy working with young children and like the opportunity to expand your experiences, daycare might be right up your alley. While being a lead teacher in a daycare or preschool requires a degree or certification, support positions such as teaching assistant don't.
The major drawback to working in daycare for college girls that need money is the hours. Daycares are usually daytime occupations opening around 6 a.m. and closing at 6 p.m. Take care that your employment doesn't conflict with your class schedule.
Personal Trainer/Fitness Center
Certification as a personal trainer takes a little time to achieve, but you can get enormous satisfaction and make pretty good money as a personal trainer at a fitness club.
Fitness clubs like employees who look fit and can enourage their members to workout successfully. Working in a fitness center provides you with the opportunity to use the equipment, network socially and make money. Want to avoid the freshman fifteen? This is would be a good way to do that.
College Girls and Retail Therapy
Retail stores hire new employees on a regular basis. From Wal-Mart and Target to Home Depot and Lowe's to larger department stores and the mall, a little retail therapy can go a long way towards easing the financial burdens associated with being a college student.
Applications need to be filled out on site and you want to do your best to talk to someone when you turn it in to make sure you don't fall to the bottom of a stack. Another perk of working in retail? You don't typically need a lot of experience to get the job.
Administrative Work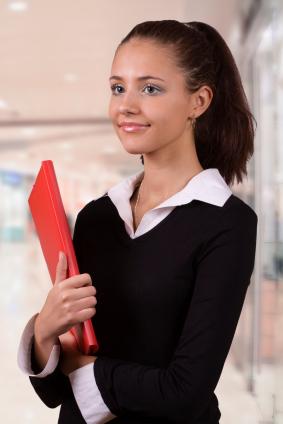 Jobs in campus offices or in local businesses can provide you with a decent income. Depending on your major, you may find that getting an administrative job doubles as experience in your chosen field. Talk to local temporary agent services like Kelly, Manpower and more. Placement and temporary agencies can help line up work for you that may be infrequent, but still pays well.
Tutor
College girls need money and tutoring can go hand in hand. You don't have to be good at all subjects, but if you're really good at any one, hire yourself out as a tutor.
You can set your own hours, charge an hourly fee and work around your own academic schedule. Be sure not to overextend yourself, require payment due at time of services and don't fall behind on your own studies.
Waitress
Waitressing is not as easy as it looks, but if you're good with people, work well on your feet and can keep more than seven things on a mental list at any given time, waitressing might be the way to go.
The great thing about waitress jobs is that they range from high-end restaurants like The Melting Pot to mid-range restaurants and sports bars like TGI Fridays to mom and pop diner style restaurants like IHOP and Denny's.
Still need cash? Check out these Alternative Ways to Pay for College for ideas.