Alternative Ways to Pay for College
Ways to Pay for College
Alternative ways to pay for college provide students with opportunities to get the education they want or need, whether they're fresh out of high school or returning to college after a long delay. College payment methods include scholarships, grants, military service, internships, clepping out of classes and more.
Army, Navy, Marines & Air Force
In addition to providing access to the G.I. Bill, military service offers students of all ages dedicated training (including training that can be converted to college credits) as well as an income that can pay for a college education. Military service includes all branches of the military and the National Guard.
Practical Experiences
Practical experience can provide alternative ways to pay for college - particularly if that practical experience can be translated into credits. Many colleges, including the University of Phoenix, will let you apply practical experience for credits in similar courses.
Tutor Your Way to a Paycheck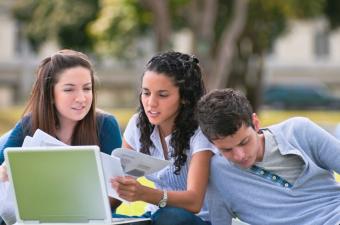 Tutoring is another way to pay for college. Assisting learners at all levels (from elementary to college) can provide students with income to help cover their educational expenses. For adults with a teaching certificate, learning centers like Sylvan provide additional income via tutoring.
Clep Out of Courses
CLEP tests may not provide you with the funds to pay for classes, but they can save you time and effort if you have the base knowledge a class provides. By clepping out of a course, you can save yourself a tremendous amount of time and avoid spending money on tuition and books. Clep regulations are different at each university, so be sure to investigate your school's rules.
Employer Subsidies
Many corporations offer to subsidize employee education. By working on a degree or degrees that benefit the company and increase your skill set, you can make your workplace pay for your college education. Most companies reimburse, which means you pay the upfront cost and invoice the company after completing the course with a passing grade.
Grants, Scholarships and More
The best alternative ways to pay for college are grants and scholarships. These are funds that you are not responsible for paying back and are not typically taxed. You earn them by submitting applications. Student loans are another route to go as is investing early (this is often initiated by parents) and using the returns to pay for school.
Accelerate the Learning Process
Accelerated classes reduce the amount of time you spend in school and help you achieve your degree faster. Accelerated classes may also come at a discount. For example, the average course at University of Phoenix is $1,500 for a five-week course while the same class at a local university that takes a full semester is closer to $3,000.
For more financial aid and college payment options, check out: