A few ideas for dorm furniture can help you decide on the best dorm décor choices. There are many units you can purchase or you can curate your own dorm arrangement.
Keep reading »
Browse Topics in College Images and Galleries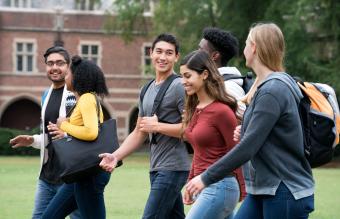 From paying for college to furnishing your dorm room, college slideshows will help you navigate university life. If you don't have time between classes to read long articles about these college life topics, slideshows with images help you quickly browse the subject.
College Admissions
Your first step to living the college life is applying to the schools you're hoping to attend. College application tips can help you save time, energy, and even money and help you make the best first impression. Make sure you read the entire application and understand all of its components before submitting. While your application should feel professional, it should also showcase your unique personality and talents. Keep your admissions materials organized and get them turned in on time for the best chance of getting accepted.
College Costs
The rising cost of college tuition is a hot-button topic. From private scholarships to federal loans, students should exhaust every avenue in attempting to keep college affordable. Exploring alternative ways to pay for college will help put the education you want within your reach. For instance, some students choose to attend a less-expensive community college before transferring to a four-year institution. Others enter the workforce to gain on-the-job training and take advantage of tuition-reimbursement programs. With careful planning, college can be an affordable way to prepare for your future. Keep a watchful eye on which costs are necessary and which are simply desired.
College Life
College life is only as great as you make it, so get comfy in your dorm and on campus.
Furniture and Supplies
From a stylish lamp to a comfy futon to creative storage solutions, your dorm furniture will help you get the most from the small space and make it feel more like home. Whether you're moving into the dorms for the first or fourth time, a thorough packing list is essential. In addition, the right school supplies, including small details such as highlighters and larger purchases like a laptop, will help you make the grade.
Campus Living
Living on campus is an integral part of college life for many students, but tips for college freshmen include getting out of your dorm room as much as possible to see what resources your college offers.
A Good Look at College
Whatever the topic, college slideshows provide important information that will help make your journey towards a college education easier. Even if the images stick with you longer than the text, you'll still walk away with a good look at college life.