You can find some funny quotes that reflect the life of college students. Sarcasm and minimizing the situation are two fun ways to poke fun at yourself and the situations you may find yourself facing while at…
Keep reading »
Browse Topics in Campus Life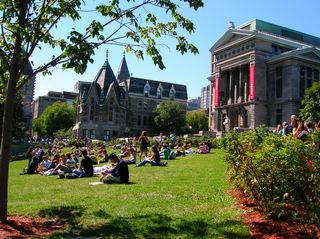 Immerse yourself in campus life to make the most of your college years and create unforgettable memories.
Getting Involved in Campus Life
There's more to college than academics. Consider the following ways to enhance your college experience:
Socialize - Even if good grades are a priority, you should still take a break every once in a while and get to know new people. Hanging out with your roommate or going to a party is a great stress reliever. Having a network of supportive friends can be essential for getting through tough times. On a day-to-day basis, knowing you have someone you can share class notes with or invite to dinner in the cafeteria is also reassuring.
Join a club - Becoming involved in campus organizations is a great way to meet new people while building skills and enhancing your resume. Rush a fraternity, audition for a play, or join a pre-professional group. Whatever your interest, there is bound to be a student organization for you.
Get a job - An on-campus job can help you get to know your school and gain valuable university contacts while you earn some extra money. Even getting a job at a local bookstore or restaurant can lead to improved time management skills and a chance to branch out and meet new people.
Attend sporting events - Sports are an integral part of campus life at most schools. From tailgating to post-game celebrations, a football game can provide an entire day's worth of entertainment in the fall. Following basketball, hockey, and baseball can take you through the rest of the year. You also might want to check out a less-publicized sport like volleyball or lacrosse. If you're feeling sporty, join in the athletic competition yourself with intramural and club sports.